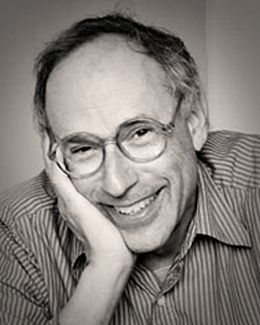 Agent Andy Ross (Interview)
Interviewed by John Robert Marlow
ANDY ROSS is a literary agent and founder of the Andy Ross Agency, which specializes in narrative nonfiction, history, politics and current events, science, journalism, and cultural subjects. Before becoming an agent, Andy was owner and general manager of Berkeley landmark Cody's Books from 1977- 2006. He was a board member and officer of the American Booksellers Association, past president of the Northern California Booksellers Association, and is author of the Ask the Agent blog.
JRM: Why did you become—and why do you remain—an agent? What got you started, and what keeps you going?
Andy Ross: Most agents come out of publishing. Usually editorial. This makes a lot of sense. They have experience in the decision to acquire books for publishers. They know the calculations that go into making the decision, and they usually know what general sorts of books publishers are looking for.
I came into this job from an entirely different background. I was a retailer for 35 years. For 30 years I owned and managed Cody's Books in Berkeley. It was an extremely well known and highly regarded store that had a reputation for its unusual selection of titles and its commitment to books of literary and intellectual value.
This gave me an unusual perspective. I like to say that, as buyer for the store for so many years, I have been pitched over 50,000 titles. It was invaluable experience for understanding the tastes of a very wide range of publishers.
It is pretty easy to make a submission list of the imprints from the 6 major publishers in New York (Macmillan, Random House, Simon and Schuster, Harper Collins, Penguin, Hachette Book Group). But in the tough world of publishing, realistically it is going to be necessary to go down the list to smaller houses. As a retailer, I am more familiar with a wide range of imprints than many other agents.
When I left Cody's in 2007, I wasn't sure what skills I could bring to any new job. I had a sense that my future lay in…maybe…sacking groceries at Safeway. But I had a kind of epiphany that I would be a pretty good agent. I think I am. I've sold 21 books in my two and a half years at this job. Many are lead titles.
I love working at this other end of the book food chain. And getting an offer on a book is a really emotional experience. Getting rejections is also an emotional experience, but that is another story. Honestly, I love this work. I wish I had started years ago. It's like Christmas every day.
***
JRM: Given your seen-it-all perspective, what still gets your attention and makes a query
stand out from the crowd?
Andy Ross: I see a lot of articles and presentations for writers about how to structure a query letter. Some of them even profess to offer a kind of kabalistic secret technique that will assure the writer of finding an agent and a publisher. I don't buy that. The best kind of query letter is one that pitches a good idea for a book from a person who has the authority to write it and the platform to get attention for it.
You should always look on an agent's website for submission guidelines. Speaking only for myself, I like a short query (half page or less) sent by email with the text embedded in the email that tells me the genre of the book, succinctly what the book is about, the audience it is trying to reach and why the author has the authority to be writing about this subject.
You have no idea how often I get queries that begin with a kind of breathless narrative. Two long paragraphs later, it is still unclear whether the book is a novel, a memoir, or something else. I don't like that.
But, notwithstanding, if I get a query with a project that excites me, it doesn't really matter if the format is different. I just did an entry on my blog called 9 Tips for Effective Query Letters, which conveys a better idea of what I'm looking for when I read query letters.
***
JRM: What are some of the mistakes you see new writers make, in their approach to people or the industry?
Andy Ross: There is an old cliché that publishing is the marriage of art and commerce. In these hard times it is a kind of S&M marriage with commerce being a rather harsh dominatrix. Publishers are under huge pressure to make money. I suppose they have always been. And their first concern is how to find an audience large enough to make publication a viable commercial venture.
This is only to say that the decision to publish a book is quite different than a judgment about whether a book is high art or intellectually worthy. And writers need to have no illusions about that.
***
JRM: What are the most important things for a writer to know—in general, and when approaching an agent?
Andy Ross: It's important for writers to understand that publishers are going to expect the writer to do the heavy lifting in promoting the book. A writer can't just write. He has to be a savvy marketer as well.
And writers should also be realistic and be aware that we live in a world obsessed with celebrity and driven by mass media. Increasingly the books that are selling are the books that are getting media attention, books by personalities.
Sarah Palin's rather mediocre book was the best-selling nonfiction book of 2009. All of the best selling fiction books last year were by name-brand authors. Chances are that if you don't already have a mass following, your book will sell in modest numbers. The most difficult job I have as an agent is managing my clients' expectations.
***
JRM: What qualities do you look for—and look to avoid—in a writer-client?
Andy Ross: It is always easier to sell a book by a writer with "platform". Platform is a word you hear a lot in publishing. It means that you are famous or otherwise important and will have access to media and reviews.
A professor with an endowed chair at Harvard has platform. Anyone you see on the tabloids as you are checking out at Safeway has platform. Sarah Palin has platform. The Chilean miners have platform. Oprah's hairdresser (or anyone else associated with Oprah) has platform. Writers, like everyone else, are all different. I try to be tolerant of their virtues and vices.
***
JRM: What should a writer look for—and avoid—in an agent?
Andy Ross: I hear a lot of myths about what is good and bad in an agent. I hear that it is always best to get an agent from a large prestigious New York agency. Certainly it is always nice to impress your friends by namedropping your celebrity agent, but it isn't necessarily going to help your career. Some of these agents are pretty good. But they may not have much time to work with you. Some of them think that it is their job to flip contracts, rather than help the author develop her ideas into good and publishable projects.
A lot of authors think they need an agent, because they can't get published without one. That is probably pretty realistic, at least with the major publishers. But no agent, no matter how prestigious, is going to be able to sell a book that would otherwise not interest a publisher.
A lot of writers think that an agent can get them a big deal with a big publisher and negotiate a very favorable contract. Agents generally have some knowledge about what to ask for in a deal and sometimes how to leverage a situation into getting a bigger advance. Some, but not all, agents know the pitfalls of publisher boilerplate contract language and can make some limited beneficial changes. But these are not really the most important parts of an agent's job.
If you speak to published authors, most of them feel that their agents are essential and that the commissions are well-earned. But they also will tell you that the real value that the agent brings is to be a creative advisor, first line editor, business manager, intermediary with the publisher, a person who works to advance the writing career of the writer, and is sometimes a shoulder to cry on.
Watch out for agents who are not willing to go the distance to see your book get published. Some authors complain that their agents give up after sending their book proposal to a few large houses. Those are not good agents.
I was on an agent's panel recently, and another agent had a very telling story. A novelist came to her because she was unhappy with her previous agent. She said that the agent had submitted her novel to 40 publishers and it was rejected by all of them. My agent friend advised her that if she could find an agent who would do that kind of work for her even after facing so many rejections, that was a sign of a very good agent.
That said, there are a lot of people selling themselves as literary agents. Some are pretty marginal and some are scammers. Never hire an agent who charges money up front or who accepts you as a client conditional on your being willing to pay for other services. A good agent works on commission only. Anything else is a red flag. So watch out.
It is always a good idea to find an agent with some experience behind them, some one for whom agenting is a full-time job. But new agents can be good too; I was a new agent about 30 months ago. New agents will take more risks and may very well be willing to work harder for you.
***
JRM: A number of agents and agencies are now rebranding themselves as "literary management" companies. Does this, in your opinion, represent a fundamental change in the representation business-a shift, perhaps, toward the Hollywood model where writers often retain both agent and manager?
Andy Ross: In the book trade, so far, distinguishing between "agent" and "literary management" is like distinguishing between "used car" and "preowned car." Different words for the same thing. The real distinction is between agents who do manage client's careers and those who just flip contracts. The former are preferable to the latter.
***
JRM: You've just described the difference between managers and agents in Hollywood, though there are of course exceptions. But in the book trade-so far-they're all still "agents?"
Andy Ross: Yes. I guess my simple answer is that, in the book world, good literary agents manage their clients' careers as well as get them contracts. Bad agents just flip contracts.
***
JRM: What's the industry-wide average or typical advance for a book by a first-time writer, and how is that paid out? Feel free to break that down into categories, or to qualify it any way you like.
Andy Ross: I can't make any generalization about typical advances. But I can say that advances have dramatically decreased in the last few years. It is not unusual to get an offer of a $50,000 advance from a major publisher, for a book that may very well be a lead title.
Any agent will tell you that today, $50,000 is a very good advance. Five years ago, that same book might have garnered three times that amount. You read about seven-figure advances, but really these are for the big celebrities.
Advances get split into payments. Two, three, and even four. Smaller advances are often paid in two parts, one on signing and one on delivery and acceptance of the manuscript. Larger advances will have an additional payment at the time of publication.
I have a six-figure advance that has yet an additional payment at the time of paperback publication. So the final payment is likely to come over two years after the contract is signed. One questions whether this should even be called an "advance."
***
JRM: Moving more toward the classic Hollywood step deal.
While we're talking left coast—any thoughts on books with film or other crossover potential, and how that potential affects the likelihood or ultimate price of a sale?
Andy Ross: Most good agents will try to reserve the rights for movie/tv/performance for the author. So a publisher won't get a piece of that action. But in general, a movie helps the sale of a book. There are a lot of deals for "options" for movies, which give the production company the right to exercise an exclusive option for a given period of time. A lot of these deals aren't worth much money. There are very few options that end up getting made into movies.
***
JRM: For readers who may not know the score, I feel compelled to say here that, while this is absolutely true of most options–typically those by lesser-known companies and individuals—it's also true that many options pay more than a typical book advance, even if the film is never made. In which case, the author gets to keep the money-and option the work again, or sell it.
Also, some options involve the optioning party doing a significant amount of work to develop, improve, or adapt the work being optioned.
Andy Ross: That is certainly true. Options, like advances, come in all shapes and sizes.
***
JRM: What industry trends do you think writers should be aware of right now—what's changing, and where is it taking us?
Andy Ross: The big topic of conversation right now is electronic publishing. It is growing exponentially, and will continue to do so as more consumers buy reading devices.
The reading experience with e-books has become pretty good now. I believe that this is the future of book publishing, as far as anyone can really predict the future in this fast-changing world. I think this will have tragic consequences for community-based bookstores and for the communities they serve.
I don't think online bookselling is ever going to be able to recreate the ineffable joy and excitement of shopping at a real bookstore. I don't think that e-books will necessarily change the way people write or the content of what they write. It is a neutral medium, just as a blank piece of paper is a neutral medium.
Of course the more substantial and, to my mind, more troubling trend is the reduction of reader attention span due to the Internet. Reading requires patience and time, and a kind of commitment from the reader that is missing when one is simply surfing the net.
And, of course, the culture of celebrity is driving bigger and bigger sales to fewer and fewer titles. These are very troubling trends, indeed.
***
JRM: Going back to your comment about the pleasures of shopping at brick-and-mortar stores, I have to agree. But there's another issue in play here.
Once upon a time, the big chains drove the little independents out of business. Now the online behemoths are putting the hurt on the chains. Amazon has driven Barnes & Noble to the auction block, Borders has already gone under in Britain and was teetering on the brink last year in the U.S. The same thing is happening with dvd rentals: Netflix has driven Blockbuster into bankruptcy.
This would seem to bode well for indies, particularly small or niche stores with lower overhead—where the people working there actually know and care about the books they're selling. But will customers be willing to pay more for that superior service and personal connection, when they can in most cases order the same thing online, for less?
Andy Ross: That is a very good point. My wife works at an independent. I used to be an independent bookseller, and I have a lot of friends who own independent stores. People in publishing and book lovers everywhere think of indies as the heart and soul of the book business.
Barnes & Noble is still a very robust company. It sells about the same number of books as Amazon. But they are closing a lot of stores and using more space for non-book items. In other words, they are having to make very significant adjustments to accommodate the brave new world of publishing.
Borders is a corporate basket case. They seem to be trying to shrink their way into profitability. Not a good sign.
And yes, you are right that smaller independents have some important advantages. They have low overhead and provide the kind of bookstore experience that is matchless. But unless they can find a way to adapt to the e-book revolution, their future will be in doubt.
***
JRM: What does your experience at Cody's tell you?
Andy Ross: Cody's was a large independent store and was probably a victim of history. The heyday of independent stores was in the 1980's, before the chains started opening up superstores everywhere. Business began declining in the 90's. And at the end of that decade we began facing extremely robust competition from Amazon.com. Cody's had a very high overhead and faced eroding sales.
***
JRM: What do you like most about working with writers?
Andy Ross: I have enormous admiration for the vocation as well as the profession of writing. I think a lot about what Anne Lamott said in Bird by Bird. She advised the writer to stop worrying about getting published. Writing opens you to the world and makes you a better and wiser person. Getting published does none of this. And seldom brings wealth or fame.
I have said elsewhere that the work of the writer reminds me of the final magnificent sentences of Albert Camus' Myth of Sisyphus. Something to the effect that: "the journey itself is enough to fill a man's heart." Nothing expresses better the courage it takes to be a writer.
---
Author John Robert Marlow is available for professional editing, development, and consultation services. If you'd like help taking your work to the next level, contact John here.
copyright © by John Robert Marlow
all rights reserved